How is this possible? Audiences may be at times surprised or irritated, when interpretations of one and the same composition sound as if they were completely different works.
With faithful! II these very irritations become the content. The Berlin festival for contemporary music takes up the question of the Fidelity and Betrayal of musical interpretation once again in this year's edition. With a wide array of concerts, talks and experiments, faithful! II opens up an exciting interplay between musicians, composers, and listeners.
faithful! II 13.-23. November 2014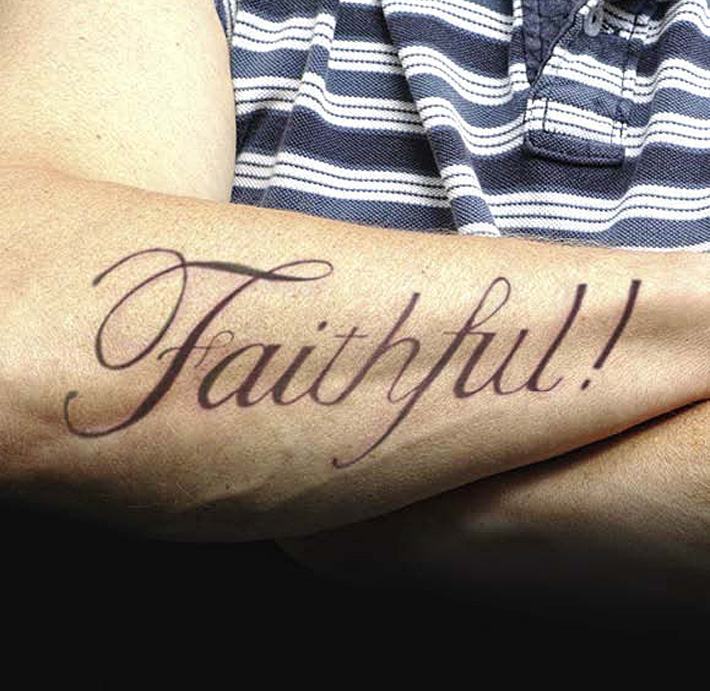 Ondřej Adámek, Liz Allbee, Ashtray Navigations, Séverine Ballon, Burkhard Beins, Sebastian Berweck, Sandeep Bhagwati, Frank Bedrossian, Christian von Borries, Osvaldo Budon, Califone, Jani Christou, Iancu Dumitrescus, Ensemble Extrakte, Ensemble multilatérale, Dror Feiler, Alexander Frangenheim, Reinhold Friedl, Harley Gaber, Gebrüder Teichmann, Burkhard Glaetzner, Gérard Grisey, Georg Friedrich Haas, Alois Hába, Lars Petter Hagen, Robin Hayward, Steve Heather, Clara Ianotta, Hilary Jeffery, Gregorio Garcia Karman, Johannes Kreidler, Lautten Compagney, Anestis Logothetis, Logothetis Ensemble, Los Angeles Free Music Society, Ernesto Molinari, Charlie Morrow, Theo Nabicht, Neo Ensemble Norrebotten, Andrea Neumann, Oslo Sinfonietta, Zeena Parkins, Lydia Rilling, Giacinto Scelsi, Gerd Schenker, Chiyoko Szlavnics, Sonar Quartett, Ernstalbrecht Stiebler, Ernst Surberg, Tana String Quartet, Biliana Voutschkova, Christopher Williams, Iannis Xenakis, Marta Zapparoli aka Penelopex u.a.

October 5th 2012: 18.00 – Musical Graphic (Berghain) ++ 19:00 – Podium (Panoramabar) ++ 21.00 – Re-Work 1 with Kerry Yong (Berghain) ++ 22.00 – The Vegetable Orchestra (Berghain) ++ 23.00, DJ-Culture: DJ Olive vs. DJ Hashimoto (Berghain)

October 6th 2012: 14.00 – Karaoke-Matinee (King Karaoke Bar) ++ 17.00 – Podium / "Quartet of Critics" (Wabe) ++ 19.00 – Solosemble 1 (Wabe) ++ 22.00 – No More Vivaldi (Wabe)

October 7th 2012: 16.00 – Lecture-Konzert (Wabe) ++ 18.00 – Long Night of String Quartets 1 (Wabe) ++ 21.00 – Long Night of String Quartets 2 (Wabe)

October 12th 2012: 20.00 – Oral Cultures with "sfSound" (Berghain) ++ 22.00 Re-Work 2 with Thomas Lehn (Berghain) ++ 23.00 – "Dead Songwriters" & Without Additives No Stars Big Band (Berghain)

October 13th 2012: 15.00 – Organ Concert 1 (Bartholomäuskirche Friedrichshain) ++ 18.00 – Vortrag (Villa Elisabeth) ++ 20.00 – Tout seul, mais ensemble (Villa Elisabeth)

October 14th 2012: 15.00 – Organ Concert 2 (St. Matthias Kirche Schöneberg) ++ 17.30 – Solosemble 2 (Wabe) ++ 20.30 – Treatise (Philharmonie, Kammermusiksaal)

October 5.-14. 2012: Framework Program (General Public & Kantine im Berghain)

October 6.-7. 2012

Concerts and talks at "Lagerhalle" (Rolandsmauer 26, 49074 Osnabrück) and "Kunsthalle Dominikanerkirche" (Hasemauer 1, 49074, Osnabrück).

Line-up:

Earle Brown, John Cage, Cornelius Cardew, Kurt Cobain, Henry Cowell, Ian Curtis, Nick Drake, Pascal Dusapin, Gerhard Eckert, Morton Feldman, Klaus K. Hübler, Janis Joplin, Hermann Keller, Garth Knox, Kraftwerk, John Lely, Györgi Ligeti, Anton Lukoszevieze, Jim Morrison, Theo Nabicht, Giovanni Battista Pergolesi, HP Platz, Radian, Steve Reich, Reynard Rott, Vincent Royer, Kaja Sariaho, Rebecca Saunders, Oliver Schneller, Giacinto Scelsi, Salvatore Sciarrino, Iris ter Shiphorst, Amy Winehouse, [-†] Without Additives No Stars Big Band (Damian Marhulets, Julia Mihaly, Sebastian Wendt), The Vegetable Orchestra, Kerry Yong, Susanne Zapf, Lenka Zupkova.

Overview:

October 6th. 2012 (Lagerhalle) : 18.00 – Fireplace Talk – Interpretation ++ 20.00 – The Vegetable Orchestra ++ 21.30 – Re-Work with Kerry Yong ++ 22.30 – Without Additives No Stars Big Band ("Dead Songwriters")

October 7th. 2012 (Kunsthalle Dominikanerkirche) : 14.00 – Adieu Mon Amour – Matinee Concert ++ 19.00 – Tout seul, mais ensemble
==> Artistic interpretation, the relationship between composer and interpreter, has always been the at the core of contemporary music. Knowledge and practice have expanded radically in the 20th century. Musical interpretation is no longer only what a musician does with his instrument. Theoretical, scholarly and medial dimensions of interpretation are varied and omnipresent today. faithful! II expands upon the forward-looking stimuli from the first festival in 2012 and sets eclectic new accents. Thus, we will again experience comparisons of interpretation and reinterpretations, with new questions for interpreters and composers.
The festival will open with a compact debut concert by the legendary Los Angeles Free Music Society (LAFMS). The group reinterprets essential material, which has had to wait forty years for a revival. The same material will then be reworked by Berlin improvisers with Zeena Parkins as guest. Added to this will be a version in an interpretation of all musicians together. Thus, right on opening night, faithful! II poses the question of how contemporary music, whose "original" mainly exists as a recording can be interpreted, and gives a direct musical answer to it.
Similar questions are presented by the Ensemble Extrakte which, together with the Gebrüdern Teichmann, will focus on Berlin club culture from the 90s to the present. The module of the loop will be taken up and investigated on instruments of the most varied cultures, including electronics.
Three composers and three ensembles will face special challenges during the festival. faithful! II has awarded commissions to Ernstalbrecht Stiebler, Dror Feiler and Osvaldo Budon. The works that they create must be able to be performed by ensembles of the most varied backgrounds.
For comparison, we will hear the same pieces interpreted by Norrbotten NEO, the Swedish ensemble for contemporary music, a group of improvising musicians and the Lautten Compagney, an ensemble for early music. The festival thus puts notation methods, instrumentation and the varied approaches of composers and ensembles to the test. The question: Is there such a thing as "musical objectivity"?
faithful! II will intensify the comparison of interpretations of selected contemporary works with internationally renowned ensembles – the Oslo Sinfonietta, Ensemble Multilatérale, Norrbotten NEO, the Sonat Quartet and the Tana String Quartet – as well as with solo musicians and ensembles.
faithful! II will locate a mobile performance project in a gallery in which the French cellist Severine Ballon will place new music in relationship to contemporary visual art. The festival will compare remixes of Iannis Xenakis' Persepolis and reinterpretations with Cogito by Iancu Dumitrescu and music by Ashtray Navigations.
The beginnings of graphic notation will be explored by two ensembles with scores by the Greek composer Anestis Logothetis.
Certain works from the festival will be presented again in a 3-D sound environment by Charlie Morrow. The three-dimensional sound space will render sonic details – which, even with the best acoustics remain hidden – perceptible.
The band Califone is founded by frontman Tim Rutili. Originally from Chicago, Califone works in collaboration with other multi-instrumentalists as they convey seemingly fragmented sketches. The band draws on folklore; rock and electronic experimentation as they play impressionistic instrumental jazz-rock and spherical blues instrumentals, that at times draw on elements that also range from kraut rock to trip hop. In addition, they have notably reinterpreted works by Psychic TV and The Rolling Stones. Califone situates astonishing musical reinterpretations that bend between experimentation and unheard of soundscapes.
Johannes Kreidler programs a keyboard in such a way that the note first sounds when the key is let go. This fundamentally contradicts the sense of touch for the keys that a pianist has acquired through long years of practice. The audience, but also professional pianists are invited to play this instrument.
Concept, Artistic Direction: Elke Moltrecht